THE JM LEXUS CERTIFIED COLLISION CENTER
JM Lexus was one of the first Lexus Certified Collision Center in South Florida. We have assembled a team of the most highly trained professionals from our technicians' to our office staff. Our friendly Collision Center Consultants will guide you through the repair process while our technicians restore your vehicle to its pre-accident condition.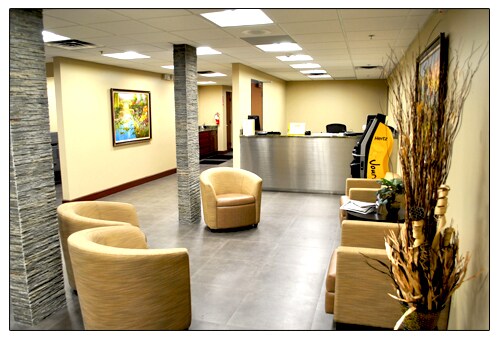 The safety of our guests is our number one priority and we will ensure that your vehicle will be as safe to drive after it is repaired as it was before. We also offer a number of services that will help maintain your vehicle's condition such as: Paintless dent repair, leather repair, and wheel restoration. We also install all sorts of accessories including window tint, clear bra's, spoilers, body kits, and painted pin stripes too!
LEXUS CERTIFIED COLLISION CENTER
Although you never know when an accident may occur, you can know what to do after it happens. Lexus Certified Collision Centers can help you through this stressful time by putting you at ease about the repair of your Lexus vehicle. Our Lexus Certified Collision Center Staff are uniquely qualified to make sure your experience is worthy of the vehicle itself. We ensure you get the answers you need and get your vehicle back as quickly as possible.
Q: What is the difference between a Lexus Certified Collision Center and other body shops?
A: Lexus Certified Collision Centers demonstrate a commitment to excellence in collision repair professionalism, repair quality and customer satisfaction by meeting Lexus' industry leading standards for certification. Key standards include: A third party customer service monitoring system to ensure your repair experience is exceptional, Lexus-trained managers and technicians who have the knowledge and expertise to repair your Lexus right, and repair facilities that are equipped with the right tools and equipment.
Q: What is the advantage of state-of-the-art tools and equipment?
A: Lexus Certified Collision Centers are equipped with the latest repair equipment and tools that enable our certified technicians to adhere to Lexus recommended repair procedures.
Q: Aren't all collision repair technicians trained?
A: All repair technicians are not equally trained. Just as there are various levels of training and expertise in most professions, collision repair technicians can achieve the pinnacle of professional training by becoming Lexus Certified. Lexus Certified Technicians complete hours of hands-on training and must pass rigorous exams through both Lexus and the National Institute for Automotive Service Excellence (ASE) to achieve and maintain their certification. By providing you with the highest quality collision repair and when using only Lexus Genuine Parts in the repair of your vehicle, your satisfaction is guaranteed.
Q: Why would I want to use Lexus Genuine Parts - aren't all collision parts pretty much the same?
A: Lexus Genuine Parts are designed to meet defined quality, safety and appearance specifications that may not be replicated on imitation parts. Because of this, Lexus does not support or recommend the use of imitation parts. Lexus vehicle factory warranties transfer when Lexus Genuine Parts are utilized in the repair process. Protect yourself and the value of your vehicle by insisting on Lexus Genuine Parts.
WARRANTIES:
JM Lexus Certified Body Shops provides a lifetime warranty on collision related repairs. The warranty covers the following repairs performed by JM Lexus. Click here for  
Collision Center Warranty.
BODY SHOP:
Lifetime Warranty on craftsmanship of body and metal repair.
Lifetime Warranty against defects and product failures of the vehicle finish.
CERTAIN LIMITATIONS APPLY:
Lifetime Warranty on craftsmanship for mechanical repairs.
Warranty on OEM Parts per manufacturer's written warranty. Sheet metal warranties vary from one manufacturer to the other. We are not able to guarantee or warranty LKQ or Aftermarket parts. The distributors will be the only warranty to come, with these parts. In addition to not supplying a warranty, we can not guarantee fit or finish.
FACILITY INFORMATION:
2 Garmat heated downdraft booths
2 heated prep stations
9 Car-o-tronic measuring systems with computerized print outs
State-of-the-art computerized mixing system
Waterborne paint line
4 Haydell nitrogen machines.
GUEST TRANSPORTATION:
We have Luxury Car Rental* - on premise for our guests' convenience, or we will gladly provide our guests with a ride in our courtesy shuttle.
GUEST ACCOMMODATIONS:
Comfortable couches, fresh coffee and soft drinks, and Direct TV or do a little shopping in our luxurious boutique!
DESIGNATIONS:
ICAR Gold Store, Lexus Certified Body Shop, 3M Top Shop Innovation Partner
We proudly display the Lexus Covenant and our Guiding Principles for our guests to see. They can be sure that we will do all that we can to ensure that they have an outstanding experience at JM Lexus.
* Luxury Car Rental is available to JM Lexus Body Shop & Service guests while their vehicle is in repair.